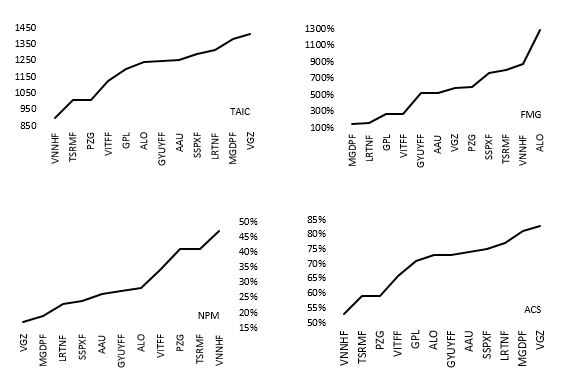 As expected, broadly speaking, low Absolute Cost Structures (ACS) are associated with high Future Market Cap Growth (FMG) and substantially higher Net Profit Margins (NPM). One anomaly is Alio Gold, which has a study group-beating Future Market Cap Growth projection in spite of average-to-high ACS, as capital and operating costs are fairly low while share structure is tight.
When selecting stocks, the criteria on which we base overall investment decisions and weightings has grown stricter. We look for companies with True All-in Cost (TAIC)* on the lower end of the curve.
*TAIC, you will recall, includes G&A Expenses, Corporate Taxes & Royalties, Refining & Transportation Costs, Working Capital, and Exploration Budgets, in addition to all capital and operating costs. TAIC is, in our opinion, a much better reflection of a company's true costs, as it makes an effort to include costs that are often excluded from related non-GAAP.