| | |
| --- | --- |
| Long-Term Price Case | $97.19/dmt |
| Flagship Project | Shymanivske |
| Ownership | 100% |
| Shares Outstanding | 235,360,000 |
| Market Cap | $11,178,000 |
| Average Annual Production | 7,065,000 dmt |
| Recovery | 98% |
| Payable Product | 141.3M dmt |
| LoM | 20 Years |
| True All-in Costs (TAIC) | $56.26/dmt. |
| Gross Revenue | $13,732,947,000 |
| Ukrainian Federal Government Royalties | ($863,300,000) |
| Net Revenue | $1,286,9647,000 |
| Total Operating Costs | ($4,446,200,000) |
| Operating Cash Flow (EBITDA) | $8,423,447,000 |
| Income Taxes | ($1,516,220,460) |
| Total Capital Costs | ($1,124,200,000) |
| Net Income | $5,783,026,540 |
| Net Profit Margin | 42% |
| Absolute Cost Structure (ACS) | 58% |
| MTQ Score (Higher is Better) | 0.7 |
| | |
| True Value | $24.57/sh. |
| True Value Discount (TVD) | 100% |
| | |
| Cash Flow Multiple | 5x |
| Net Annual Cash Flow | $289,151,327 |
| Future Market Cap | $1,445,756,635 |
| Future Market Cap Growth | 12,834% |
| | |
| Target | $6.14/sh. |
Notes: All Values in U.S. Dollars
Black Iron Inc. enjoys an MTQ Score of 0.7, which places it within the 80th percentile of companies under investigation. In other words, Black Iron's projected Net Profit Margin potential is high, while its projected Absolute Cost Structure is low, a combination for which Fahy Capital Management looks when placing a prospective investment under the microscope.
MTQ Scores (BARS — Higher is Better) Vs. Absolute Cost Structure (LINE — Lower is Better)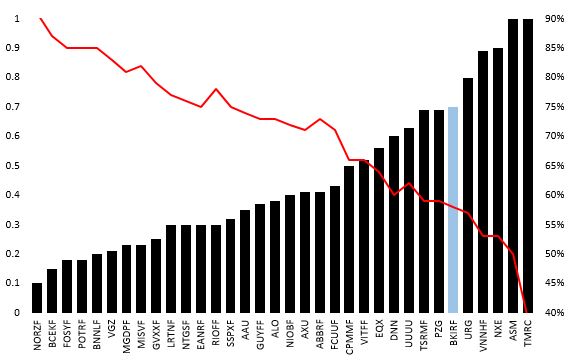 Update, 27 September 2019
Ukraine's Defence Minister, Andriy Zagorodniuk, has agreed to the transfer of land required for the development of Shymanivske. A Memorandum of Understanding will be signed next month.